Honoring La Mujer Latina
In San Antonio, when you look at the heart of the city—at the work that is being done to make San Antonio a healthier, better educated, safer, culturally richer and more just, peaceful, caring, prosperous, and ecologically sustainable place for all—you will see Latina women hard at work.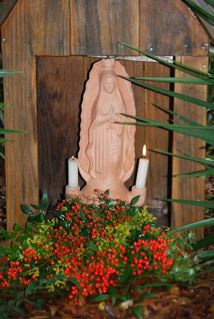 Latinas are a powerful force for the common good throughout the country and especially here in San Antonio where they comprise the single largest group of people in the city. Latinas have a cultural lineage and an embodied presence that stretches beyond the time and place when, 10,000 years ago, the Payaya Indians settled by the Yanaguana, the "place of refreshing waters." Forging community en nuestra MadreTierra, throughout the centuries to this day, Latinas continue to weave crossthreads that challenge domination and injustice, raising the right and showing the way for el pueblo to vivir bien. With this altar we honor them.

This partial listing of (primarily) grassroots organizations in San Antonio, founded and/or led by Latinas, gives a sense of the profound commitment and creative action of la mujer Latina in service of the wellbeing of the whole community. The future of San Antonio depends on the health, welfare, and spirit of its mujeres—of its madres, hermanas, madrinas, abuelas, tías, hijas, sobrinas y nietas. We honor them all and hold this space as a sacred altar, offering enduring gratitude and blessings.
Please let us know of any other Latina-founded and/or led organizations you think we should add to the altar. Gracias!
ACCION Texas
Janie Barrera, Founding President & CEO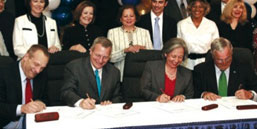 The mission of ACCION Texas is to provide credit to small businesses that do not have access to loans from commercial sources. Launched in San Antonio in 1994, ACCION Texas has successfully fulfilled its mission, with 10,000 loans totally over $88 million throughout Texas. Average loan size is approximately $15,000 and a 36-month term. With its corporate headquarters in San Antonio, ACCION Texas has satellite offices in 10 other Texas cities and makes loans up $100,000. It recently began lending operations in Louisiana.

American Sunrise
Choco Meza, Executive Director
The mission of American Sunrise is to create communities where working families find housing, economic, and educational opportunities in the neighborhoods where they reside in order to achieve an adequate and equitable standard of living. The idea is to take one square mile and infuse energy, programs, and funds into it. The one square mile area includes some of the poorest census tracts in the Westside of San Antonio. Founded in 2001 by former HUD Secretary and San Antonio Mayor Henry Cisneros and City Councilwoman Mary Alice Cisneros.
AVANCE
Gloria Rodríguez, Ph.D., Founder
Since 1973, AVANCE has continued to provide innovative education and family support services to predominantly Hispanic families in low-income, at-risk communities. Dedicated to promoting school readiness and supporting family engagement, AVANCE proudly serves as a national model and best practice of early childhood education for parents, teachers, the scientific community and general public. Derived from the Spanish word meaning, "to advance," AVANCE is committed to unlocking America's potential by strengthening families in at-risk communities through effective parent education and support programs.
Centro Cultural Aztlan
Malena González-Cid, Executive Director

Centro Cultural Aztlan was founded in 1977 by a group of young community organizers active in the Chicano movement and eager to extend its message of pride and empowerment. Their vision was to preserve and build upon the long tradition of Chicano/Latino culture by creating programs that would involve local artists and increase public awareness of their work. While our programs and audiences have grown since then, our mission remains the same: to support and strengthen Chicano/Latino culture and identity.
Chicana/Latina Studies: The Journal of Mujeres Activas en Letras y Cambio Social
Tiffany Ann López, Ph.D. and Josephine Méndez-Negrete, Ph.D., Co-Editors
Chicana/Latina Studies is an interdisciplinary, peer reviewed, biannual publication of the national collective Mujeres Activas en Letras y Cambio Social (Women Active in Research and Social Change). The journal is committed to exploring the Chicana/Latina experience through review essays, research articles, literary criticism, and creative writing. Historically supported by the Chicana Studies Department at UC Davis, the journal is currently hosted by UTSA. The Journal is receptive to all scholarly methods and theoretical perspectives that examine, describe, analyze, or interpret the experiences of Chicanas/Latinas and Native women.
Edgewood Family Network
Martha I. Castilla, Executive Director
The Edgewood Family Network's mission is "To Revitalize Our Community One Family At A Time." We facilitate the development of others by providing opportunities, choices, skills trainings, voice, seats at decision-making tables, identity, and accountability. Our Promotores de Buena Vida program trains residents in the East and South sides of San Antonio on community health issues, including Cancer Prevention, Domestic Violence Prevention, School Readiness, Mentoring of informal child caregivers and Mental Health Awareness. Promotores then teach other residents about these topics, earning a stipend.
Esperanza Peace & Justice Center
Graciela Sánchez, Executive Director


The people of Esperanza dream of a world where everyone has civil rights and economic justice, where the environment is cared for, where cultures are honored and communities are safe. The Esperanza advocates for those wounded by domination and inequality—women, people of color, lesbians and gay men, the working class and poor. We believe in creating bridges between people by exchanging ideas and educating and empowering each other. We believe it is vital to share our visions of hope…we are esperanza. Founded in 1987.
Fuerza Unida
Petra Mata, Executive Director, and Viola Cásares, Program Director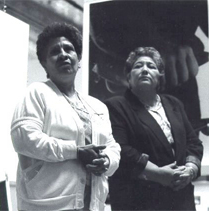 Fuerza Unida's mission is to empower women workers and their families to achieve social, economic, and environmental justice through education, organizing, and advocacy. The Fuerza Unida vision is for workers and their families to actively participate in society by voicing their opinions and concerns while keeping their cultural traditions and values. Fuerza Unida was formed in 1990 when one of the Levi's Strauss factories on the South Side of San Antonio closed, leaving over 1,150 workers without jobs and with unjust severance pay.
Guadalupe Cultural Arts Center
Patty Ortiz, Executive Director


The Guadalupe Cultural Arts Center was founded in 1980 as a nonprofit, multidisciplinary organization. Located in the heart of San Antonio's west side, the Guadalupe is the largest community-based, multi-disciplinary organization in the United States. Our mission is to preserve, promote and develop the arts and culture of the Chicano/Latino/Native American peoples for all ages and backgrounds through public and educational programming in six disciplines: Dance, Literature, Media Arts, Theater Arts, Visual Arts and Xicano Music.
Hispanas Unidas
Adela I. Flores, Executive Director

Founded in 1983 in San Antonio by then-San Antonio City Councilwoman María Antonietta Berriozábal, Hispanas Unidas is dedicated to the education, empowerment, and advancement of minority women. Hispanas Unidas runs a teen pregnancy and teenage delinquency prevention program for girls, ages 8 to 14 years, utilizing a culturally sensitive curriculum and a mentoring and leadership program that includes an array of prominent community leaders and guest speakers. The program is implemented in low-income, at-risk neighborhoods in San Antonio where teen pregnancy, drug abuse and truancy are prevalent.
Hispanic Women's Network of Texas
Dora M. Trinidad-Campos, San Antonio Chapter Chair
The Hispanic Women's Network of Texas promotes the advancement of women in public, corporate, and civil life. It is the largest Latina-based women's organization in the State of Texas. Since 1987, we serve the Texas community by sponsoring programs that reflect our vision and impact the lives of our members. HWNT has eight chapters across the State of Texas.
Intercultural Development Research Association
María "Cuca" Robledo Montecel, Ph.D., Director
Creating schools that work for all children. The Intercultural Development Research Association is an independent, private non-profit organization dedicated to strengthening public schools to work for all children. Through its history IDRA has been a vocal advocate for the right of every student to equality of educational opportunity. IDRA was founded in 1973 by Dr. José A. Cárdenas and, today, is directed by Dr. María "Cuca" Robledo Montecel. IDRA fulfills its mission through professional development, research and evaluation, policy and leadership development,and programs and materials developent.
La Voz de Esperanza
Gloria A. Ramírez, Founding Editor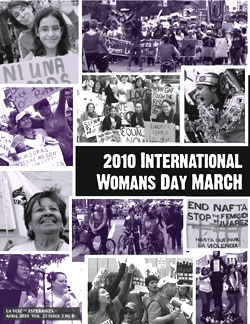 La Voz de Esperanza speaks for many individual, progressive voices who are gente-based, multi-visioned and milagro-bound. We are diverse survivors of materialism, racism, misogyny, homophobia, classism, violence, earth-damage, speciesism and cultural and political oppression. We are recapturing the powers of alliance, activism and healthy conflict in order to achieve interdependent economic/spiritual healing and fuerza. La Voz is a resource for peace, justice, and human rights, providing a forum for criticism, information, education, humor and other creative works.
Lo Bello de San Antonio Women's Club
Cristina González, President
Lo Bello de San Antonio Women's Club was founded in 1993. Amelia Garza was the founder and first President. Our first donation in the amount of $2,000 was to Visitation House in 1995. Since then we have raised more than $800,000. Although our membership consists of only 25 businesswomen, we work hard during our three annual fundraisers to achieve our goal of increasing educational opportunities in our community. It is in this vein that we, Lo Bello, continue striving to make our community mas Bello!
LULAC
Rosa Rosales, National President
LULAC is the largest Latino civil rights and advocacy group in the United States. We are 81 years and going strong. LULAC works to improve opportunities for Hispanic Americans from every region looking for freedom and and honest way of life. Rosa Rosales is in her third term as LULAC's National President, the first woman to serve as its leader.
MALDEF
Nina Perales, J.D., Regional Counsel

Founded in 1968, MALDEF is the nation's leading Latino legal civil rights organization. Often described as the "law firm of the Latino community", MALDEF promotes social change through advocacy, communications, community education, and litigation in the areas of education, employment, immigrant rights, and political access. MALDEF's Southwest Regional Office, headed by Nina Perales, covers the states of Utah, Wyoming, Colorado, New Mexico, Texas, Kansas, Louisiana, Mississippi, and Oklahoma.
Martínez Street Women's Center
Joleen García, Director

Martínez Street Women's Center is a resource for women in East and Southeast San Antonio, providing information and services that support the active participation of women and girls in the pursuit of their own physical, emotional, and social well-being. Our target population is women who face barriers accessing health care and education. Our programs target low-to-moderate income women of diverse cultural backgrounds. The Center was founded in 1999 by a group of diverse women to promote women's health in East/Southeast San Antonio.
Missionary Catechists of Divine Providence
Sister Carmen Sánchez, MCDP, Major Superior
Founded in 1946, we are the first Mexican American order of women religious in the United States. Our ministries take us to places in the United States, Canada, Mexico, Europe, and the Far East.
Mujeres Activas en Letras y Cambios Sociales (MALCS)
Antonia Castañeda, Ph.D. and Norma Cantú, Ph.D., Founders, San Antonio Chapter
Mujeres Activas en Letras y Cambio Social (Women Active in Letters and Social Change) is an organization of Chicanas/Latinas and Native American women working in academia and in community settings with a common goal: to work toward the support, education and dissemination of Chicana/ Latina and Native American women's issues. Chicanas/Latinas and Native American women gather each year at a Summer Institute to network, share information, offer support and re-energize. MALCS was established in 1982 by a group of Chicana/Latina academic women who gathered at the University of California at Davis.
Mujeres Unidas Contra el Sida (Women United Against AIDS)
Yolanda Rodríguez-Escobar, L.M.S.W., Founder and Executive Director
The Mujeres Unidas Contra el SIDA mission is to unify the Latino community by providing a safe environment for bilingual/bicultural support services and education to Latinas and their families living with or impacted by HIV/AIDS. Mujeres was founded in 1994 as a bilingual/ bicultural support group in San Antonio to serve Latinas, primarily Mexican-American, who were HIV-infected and/or affected and had no support system. Three other groups have emerged to serve families, children, and gay Latino men living with HIV/AIDS.
MujerARTES
Verónica Castillo, Maestra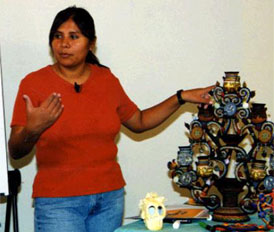 Started in 1995 as one of the groundbreaking programs of the Esperanza Peace and Justice Center, MujerARTES operates out of a house in San Antonio's westside. It is a pottery cooperative where we work in clay, explore our creative skills and develop our oral histories. It is through sculpting, drawing, painting, and telling our stories, that we have created artwork that reflects our lives, as women. It is in this sharing and learning that we find ourselves talking about community issues that really impact us.
Our Lady of the Lake Center for Women in Church and Society
Jennifer Mata, Ph.D., Executive Director
Founded in 1982 by Sisters María Carolina Flores, CDP and Margit Nagy, CDP, the Center for Women in Church and Society at OLLU seeks to expand women's participation in all areas of church and civic life. The center offers programs designed to heighten awareness of both current and historical contributions made by women in church and society, serves as a resource center and forum for dialogue on women's contributions and needs, and promotes information-sharing, leader development, networking, and mentorship in academic, civic, and spiritual life.
The P.E.A.C.E. Initiative
Patricia S. Castillo, L.M.S.W., Founding Director
The mission of the P.E.A.C.E. Initiative is to educate the public about the extent, and often-deadly consequences, of domestic violence and to respond effectively through collaborative efforts. Our membership consists of 48 public and private institutions, grassroots organizations, and individuals working collaboratively to end family violence. Established in 1990 under the auspices of the Boerne Benedictine Sisters to address the issues of domestic violence impacting the city, in 2003, the P.E.A.C.E. Initiative spun off on its own as an independent nonprofit.
Roots of Change Community Garden
Diana López, Environmental Justice Organizer
In 2007, Southwest Workers Union defeated a proposal to construct a new fuel storage tank farm on the Eastside, a predominantly African-American neighborhood, home to 60% of the City's fuel storage tanks and numerous industrial operations. As a follow-up to this victory, under the leadership of Diana López, SWU launched the Roots of Change organic community garden and involved hundreds of people in the construction, planting and harvesting of local organic fruits, vegetables and herbs.
San Antonio Birth Doulas
Suzanne de Leon, Founder and Executive Director


Our mission is to provide new and expecting parents with support in the areas of pregnancy, labor, breastfeeding, newborn care, and bonding in an effort to prevent infant/child abuse and neglect. Emphasis is on reaching pregnant teens and low-income families through mentoring, education and labor support. In ancient Greek, "doula" means, "mothering the mother." It's a woman who helps take care of a woman who is having a baby. A doula has a very loving, comforting—and special— job.
San Antonio College Women's Center
Helen Vera, Ph.D., Director
The San Antonio College Women's Center provides academic advising, information, referrals and comprehensive supportive services for women and nontraditional populations including displaced homemakers, women-in-transition, single parents/student parents and reentry women in order to assist them to realize their potential and capabilities. Supportive services include textbook, transportation and childcare assistance for qualified students, scholarship and financial aid resource identification, special sections of college orientation for women returning to school after an absence as well as a leadership development program for women. Founded by Dr. Lina Silva.
San Antonio Time Dollar Community Connections
Silbia G. Esparza, Executive Director
San Antonio Time Dollar Community Connections strives to create community, one hour at a time, supporting residents in helping one another and strengthening their families and community. Time Dollar is based on the concept that everyone has something to give and can become involved in a network of exchange where each person's hour of work is traded in equal exchange with the next person's. Key activities that Time Dollar supports include parenting classes, nutrition awareness, adult and child gardening workshops, Spanish literacy classes, and barrio beautification.
SER Jobs for Progress of San Antonio
Linda Rivas, President
SER is a national network of employment and training organizations that formulates and advocates initiatives that result in the increased development and utilization of America's human resources, with special emphasis on the needs of Hispanics, in the areas of education, training, employment, business and economic opportunity. The vision of SER Jobs for Progress is to enable the Hispanic community, other ethnic groups and "hard to serve" populations, to fully participate in America's socio-economic mainstream, enjoy equal access and parity in all aspects of American society. Founded in 1963-1964.
Southwest Voter Registration Education Project
Lydia Camarillo, Vice President

SVREP's mission is to empower Latinos and other minorities by increasing their participation in the American democratic process. We do this by strengthening the capacity, experience and skills of Latino leaders, networks, and organizations through programs that consistently train, organize, finance, development, expand and mobilize Latino leaders and voters around an agenda that reflects their values. Thus, SVREP's motto: "Su Voto Es Su Voz" (Your Vote is Your Voice). The organization was founded in 1974 by William C. Velásquez.
Southwest Workers Union Environmental Justice Program
Diana López, Environmental Justice Organizer
and Marisol Cortez, Ph.D., Climate Justice Organizer

The Southwest Workers' Union (SWU) is an organization of low-income workers and families, community residents, and youth, united in one organizational struggle for worker rights, environmental justice and community empowerment. Their Environmental Justice Program addresses the reality that hazardous waste dumps, polluting industries and military installations are disproportionately sited in low-income and people of color communities. The cumulative effects of multiple sources of contamination in these neighborhoods continue to pollute and damage our environment and health. The movement is rooted in the principle that 'we speak for ourselves.'
Southwest Workers Union Youth Leadership Organization
Sandra García, Youth Organizer
The Youth Leadership Organization (YLO), founded in 1997, aims to build a permanent strong base of youth leaders within public schools and the community to address the systemic barriers of poverty, militarization and marginalization, and simultaneously create alternatives though political education, art & cultural and movement-building. Members of YLO all want to make change in their communities, come from across San Antonio, Medina Valley, Austin and South Texas and range in age from 5-25.
St. Mary's University Center for Legal and Social Justice Center
Ana Novoa, J.D., Associate Dean for Clinical Education and Public Interest
Through its Center for Legal and Social Justice, St. Mary's offers clinical programs in civil justice, immigration and human rights, and criminal justice dedicated to educating law students and addressing the otherwise unmet legal needs of low-income people in San Antonio and South Texas. The Center also offers a number of pro bono opportunities for students wishing to assist disadvantaged individuals with legal issues.
Visitation House Ministries
Sister Yolanda Tarango, CCVI, Co-Founder (now Congregational Coordinator of the Sisters of Charity of the Incarnate Word)


The mission of Visitation House Ministries is to address and hold as central the needs and concerns of economically poor women and children, carried out through Transitional Housing and the La Casita Learning Center. Founded in 1986 and operated by the Sisters of Charity of the Incarnate Word, Visitation House reaches out to women, going far beyond providing a home, to offer support, guidance, and encouragement that will lead to economic independence and a more permanent security.